DSNA Conference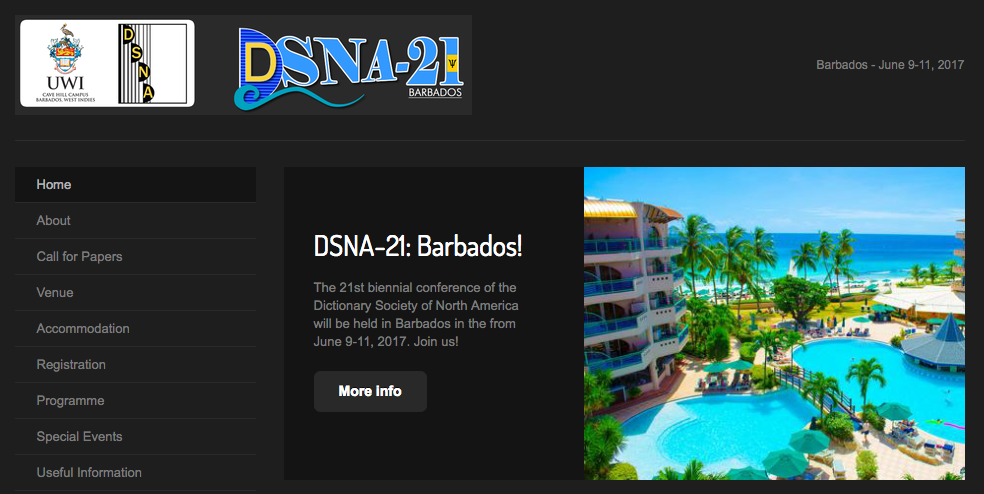 The 21st Conference of the DSNA will be held in Barbados June 9-11 with an excursion on June 12. The website http://dsna21.weebly.com/ shown above has all the details as well as the registration form. Here are the headings of the various links with a few annotations.
Home, About, Call for Papers, Venue, Accommodation, Registration (opens March 1), Programme (check in April), Special Events (Pre-Conference Workshop, Conference Banquet, Island Tour June 12), Useful Information (Travel Tips, Barbados Facts and Figures, Host University),  Contact
Other conferences
HEL-LEX5, 5th International Symposium on History of English Lexicography and Lexicology, 16-18 February 2017, Zurich, Switzerland,  http://www.hel-lex5.uzh.ch/en.html
SHEL 10, English Department, University of Kansas, Lawrence, KS. 2-4, June 2017. http://shel10.ku.edu/
ASIALEX 2017,  the National Key Research Center for Linguistics and Applied Linguistics at Guangdong University of Foreign Studies (GDUFS), Guangzhou, China. 10-12, June 2017.
AustraLex Conference, University of the South Pacific, Rarotonga, Cook Islands. 28-29 August 2017. http://www.adelaide.edu.au/australex/
eLex Conference, Institute of the Dutch Language, Leiden, the Netherlands, second half of September 2017. https://elex.link/elex2017/
19th Century Lexicography Conference: Between Science and Fiction. Stanford University, Stanford, CA USA, 6-7 April 2018.  https://lexicographers.stanford.edu