Newsletter Fall 2022
Table of Contents
---
Member & Dictionary News
After being announced in Dictionaries 42.1 in 2021, Charlotte Brewer and Stephen Turton's pilot digital edition of the correspondence of James A. H. Murray, the first chief editor of the Oxford English Dictionary, went live at www.murrayscriptorium.org in July 2022.
***********
The University of Minnesota Press announces Anatoly Liberman's Take My Word for It: A Dictionary of English Idioms (Pub date: February 28, 2023):
As author Anatoly Liberman so rightly notes, language is the most mysterious tool we use. Yet while language allows us to express thoughts, the way people use language is not always clear. To pay through the nose. Raining cats and dogs. By hook or by crook. Curry favor. Drink like a fish. Eat crow. We hear such phrases every day, but this book is the first truly all-encompassing etymological guide to both their meanings and origins.

Spanning more than three centuries, Take My Word for It is a fascinating, one-of-a-kind window into the surprisingly short history of idioms in English. Widely known for his studies of word origins, Anatoly Liberman explains more than one thousand idioms, both popular and obscure, occurring in both American and British standard English and including many regional expressions.

The origins, and even the precise meaning, of most idioms are often obscure and lost in history. Based on a critical analysis of countless conjectures, with exact, in-depth references (rare in the literature on the subject), Take My Word for It provides not only a large corpus of idiomatic phrases but also a substantial bibliography. Detailed indexes and a thesaurus make the content accessible at a glance, and Liberman's introduction and conclusion add historical dimensions. The result of decades of research by a leading authority, this book is both instructive and absorbing for scholars and general readers, who won't find another resource comparable in scope or based on data even remotely as comprehensive.
***********
Joan Houston Hall sends notice of tiered pricing for DARE:
I'm pleased to let you know that Harvard University Press has announced a new, tiered pricing structure for new institutional annual subscriptions and perpetual access purchases of digital DARE! This should make it much easier for smaller colleges and other libraries to add it to their collections!

Here are the new prices:

Academic libraries: Annual subscription/ Perpetual subscription
Up to 3,000 FTE: $310/ $1,640
3,0001-10,000 FTE: $720/ $3,280
10,001-20,000 FTE: $985/ $4,935
Above 20,000 FTE: $1,440/ $6,575

Public libraries: Annual subscription/ Perpetual subscription
Up to 50,000 users: $310/ $1,640
50,001—300,000 users: $720/ $3,280
300,001-1 million users: $985/ $4,935
Above 1 million users: $1,440/ $6,575

Secondary schools: Annual subscription, $250

Individuals: Annual subscription, $49
(For perpetual access institutional subscriptions, there is an annual fee of $150.)

As Kate Remlinger wrote in American Speech, "These dynamic, interactive features make digital DARE an invaluable resource, not only for what it reflects about the lexicon of American Englishes, speakers, regional variation, and language change, but also as a priceless research tool in that every detail down to a gnat's eyebrow has been considered."

If your library doesn't already have it, I hope you'll urge your librarian to strongly consider purchasing it!
***********
DSNA members at Oxford University Press share news of the forthcoming Oxford Dictionary Of African American English:
Oxford University Press, publisher of the Oxford English Dictionary (OED), and Harvard University's Hutchins Center for African & African American Research are delighted to announce the launch of a three-year research project, whose aim is to compile the Oxford Dictionary of African American English (ODAAE). Spearheaded by Professor Henry Louis Gates, Jr., Director of the Hutchins Center, and Alphonse Fletcher, University Professor at Harvard, the project is funded in part by grants from the Mellon and Wagner Foundations.

The Oxford Dictionary of African American English (ODAAE) is a landmark scholarly initiative to document the lexicon of African American English (AAE) in a dictionary based on historical principles. The ODAAE team will apply the depth and rigor of the OED's historical methodology specifically to the study of AAE. A diverse team of lexicographers and researchers will create a dictionary that will illuminate the history, meaning, and significance of this body of language.

ODAAE will be an authoritative record of African American English. For all those interested in AAE, it will be the definitive reference for information about the meaning, pronunciation, spelling, usage, and history of AAE words.

Find out more about the project here: https://public.oed.com/oxford-dictionary-of-african-american-english/
***********
What have you been up to? The DSNA loves to share news of member projects, publications, programs, and more! Please send your news to dsna.membernews@gmail.com for inclusion in future newsletters. You can also see and share what's happening on DSNA's Member Forum, Facebook, and Twitter.
---
In Memoriam: Jeremiah P. Farrell, 1937–2022
The Society has learned that former member Jeremiah P. Farrell died on July 4, 2022. With the self-proclaimed motto, "There's always room for one more dictionary," Jerry contributed a DSNA Newsletter column on the collection and appreciation of dictionaries in 2005 (https://mac10.typepad.com/DSNANspring05.pdf). The brief biography below is cribbed from Wikipedia, under a Creative Commons BY-SA license:
Farrell, a professor emeritus of mathematics at Butler University in Indiana, was well known for having constructed Will Shortz's favorite puzzle, the 1996 "Election Day" crossword in The New York Times. He also wrote puzzles for many other books and newspapers, such as Scott Kim's puzzle column for Discover magazine.

Farrell was born in Hastings, Nebraska, the oldest of three children to Belle Einsphar and Paul Farrell, a third-generation railroad man. Farrell himself worked for one summer on the railroad, as a "grinder", one who planes down the railroad tracks so they stay smooth. He attended Hastings High School, graduating in 1955, and then the University of Nebraska, graduating in 1963 with degrees in mathematics, chemistry, and physics. He later obtained a master's degree in mathematics, and in 1966 was hired by Butler University, where he worked for the next 40 years, teaching nearly every subject in the mathematics department. He officially retired in 1994, but continued to teach.

He was best known for constructing many crossword puzzles for The New York Times, starting in the 1970s for editor Margaret Farrar, and then continuing to design new puzzles after Shortz took over. In 1996, he designed his most famous puzzle, the "Election Day" crossword. One of the words had the clue "lead story tomorrow", with a 14-letter answer. The puzzle had two correct solutions: "Bob Dole elected" and "Clinton elected", and all the crossing words were designed such that they could be one of two different words, to make either answer work. Shortz called it an "amazing" feat and his favorite puzzle.

With his wife Karen, Farrell helped organize the biannual "Gathering for Gardner" conferences, which started in 1993 as an invitation-only event for people connected with Martin Gardner.

In 2006 Farrell and his wife took over from A. Ross Eckler, Jr. as editors and publishers of the quarterly publication Word Ways: the Journal of Recreational Linguistics, established in 1968.
For Farrell's obituary, see the following link (which may not be openable outside the United States): https://www.hastingstribune.com/obituaries/jeremiah-jerry-p-farrell/article_0a5e0054-fe24-11ec-bb8f-ef8ef6925b18.html
---
In Memoriam: E. Ward Gilman, 1931–2022
By John Morse
On June 15, 2022, E. Ward Gilman, the guiding spirit of Merriam-Webster's Editorial Department for four decades and a giant of twentieth-century American lexicography, died quietly at his long-time home in Westfield, Massachusetts. He was 90 years old.
Gil, as he was always called, began his career at Merriam-Webster in 1958 as a proofreader in the production of Webster's Third New International Dictionary. He went to on have a direct hand in the seventh, eighth, ninth, and tenth editions of Merriam-Webster's Collegiate Dictionary and an indirect hand in the eleventh edition. He was a definer and supervisor of proofreaders for the seventh edition; definer, copyeditor, and senior editor for the eighth edition; Managing Editor, copyeditor, and final reader for the ninth edition; final reader and Director of Defining for the tenth edition; and the person who trained nearly every definer who worked on the eleventh edition. Even today, if you consult an entry in a Merriam-Webster dictionary, there is a good chance that you are reading a definition written, copyedited, or revised by Gil or based on a definition written by him. Because of his prodigious output, his many years of service, and the strong sales of the dictionaries he worked on, it is likely that more of his definitions have been seen by more people than those of any other lexicographer working in the twentieth century.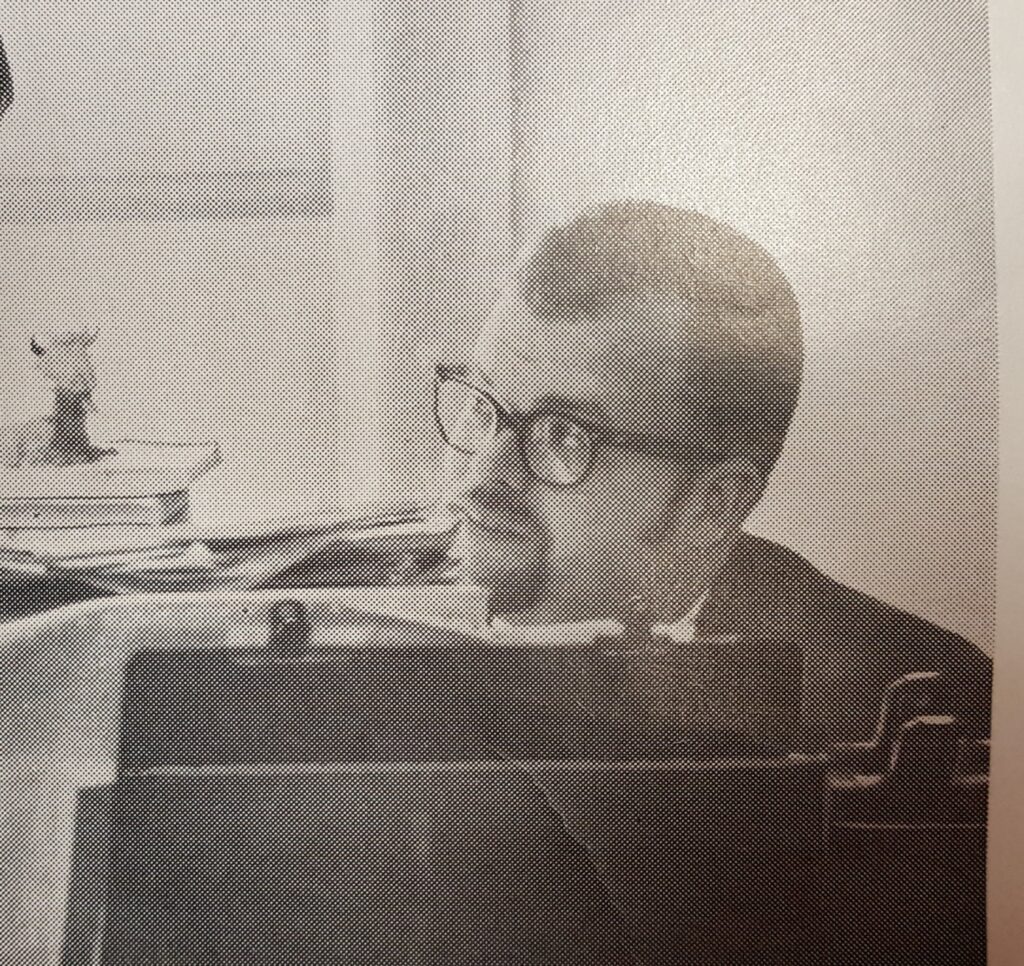 To members of DSNA, Gil is best known as the editor and principal author of Merriam-Webster's Dictionary of English Usage, a nearly 1,000-page book that describes and evaluates problems of confused or disputed English usage by examining both the historical background and present-day usage. The book took nearly five years to write and reflected nearly a decade of research, amassing and organizing information, drafting trial entries, and project planning. The book is a tour de force of Gil's great strengths as a patient and dedicated collector of relevant material, an adept synthesizer of complex material, a natural storyteller, and a gifted writer of simple, unaffected prose. The book met with the immediate approval of scholars, journalists, and educators and stands today as the most highly praised work Merriam-Webster has ever published.
To his younger colleagues at Merriam-Webster, Gil will always be remembered as a patient, good-natured, and effective teacher. Every definer who joined Merriam-Webster from the late 1960s through the early 2000s received his or her training in defining and Merriam-Webster style from Gil. The classes were always small and often one-on-one. The complexity of Merriam-Webster style is well known, but his methodical approach had a way of making it all understandable. More importantly, he was unfailingly patient with each new editor and always ready to help anyone who was making the effort to learn.
Madeline Novak, who served as a senior editor and Director of Editorial Operations, recalls that when she brought questions to Gil "he would invariably put aside what he was doing, look at the citations I had brought to him, and with cheerful zeal launch into a discussion of the issues involved." No matter the question, he never made her feel foolish. "He understood that I was asking because I wanted to learn, and his whole goal was to help me do that. And I honestly felt that he enjoyed doing it.… Learning from him was a joy."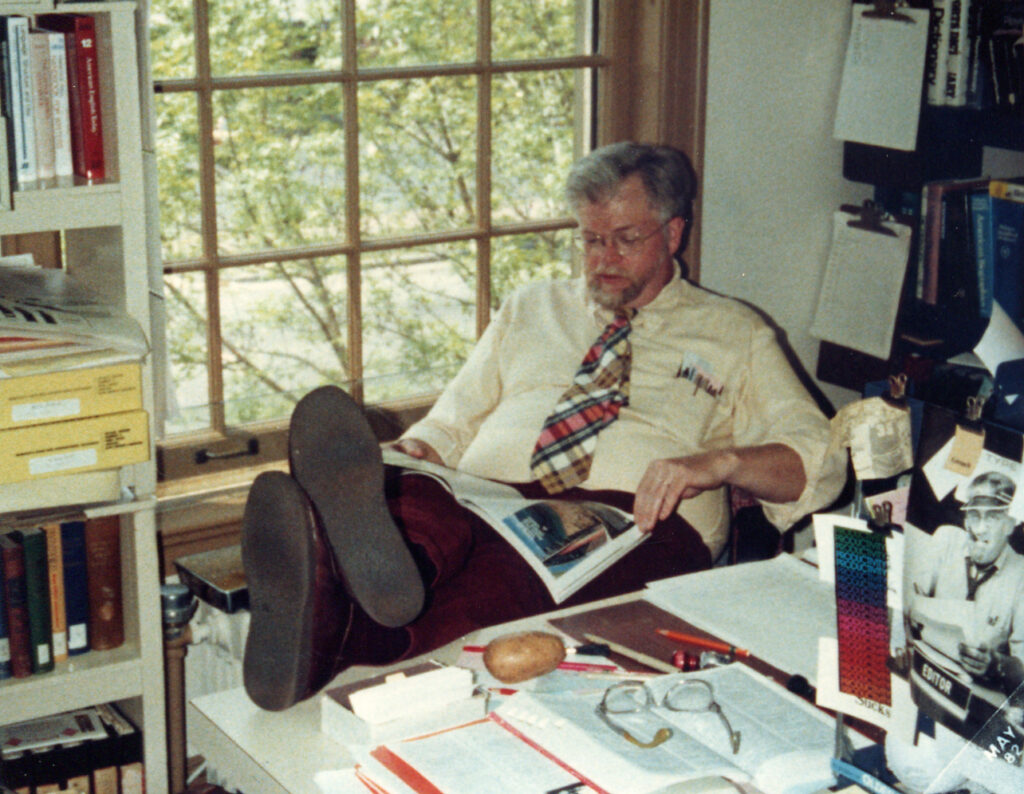 Gil did in fact enjoy teaching. He retired in 1997 but continued coming into the office and training new editors until the early 2000s. It all made an indelible impression. Whenever Merriam-Webster editors gather socially, the conversation inevitably turns to their early days at Merriam-Webster and to style classes and defining exercises with Gil. It is perhaps Gil's greatest legacy. He trained the people who wrote and still write the most widely used dictionaries in America.
Less well known to his colleagues is Gil's early interest in digital dictionaries. He was involved in the 1960s in the creation of digital versions of the Seventh Collegiate and of Merriam-Webster's paperback dictionary, which were made available to researchers. By 1968 he was regularly attending conferences and meetings regarding applications for digital dictionaries. In the 1970s, he challenged the planners of the Eighth Collegiate to envision a world in which dictionary content was created, consumed, and studied in digital form. Partly as a result, the typesetting file used for the Eighth Collegiate was a structured data file. The data structure was crude by today's standards, but all future data structures at Merriam-Webster evolved from it. It would be several decades before those who followed in his footsteps could deliver on even parts of Gil's vision, by which time a new generation of employees would be doing the development work, but all of us were building on a foundation that Gil helped create.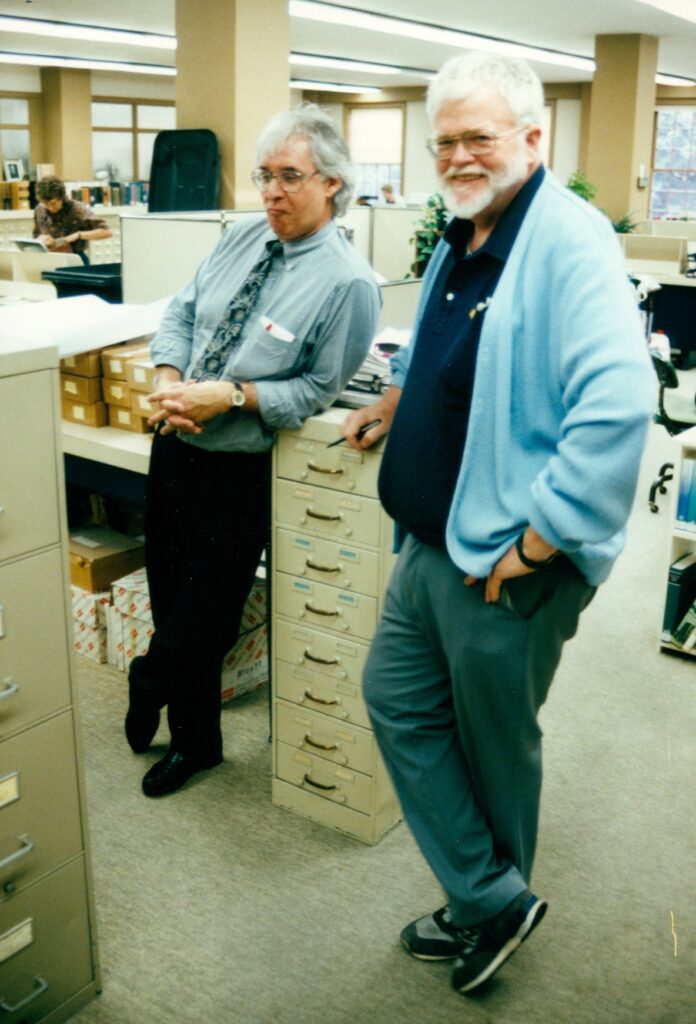 Gil also left his mark on print products, most notably on the Eighth Collegiate, which was wholly redesigned to go from around 1200 pages and 130,000 entries to more than 1500 pages and 150,000 entries and established the look-and-feel for all future Collegiate dictionaries. The redesign included every aspect of the book: front matter, back matter, tables, folios, guide words, and alpha section openers, all under the guidance and coordination of Gil. Finding the right type size for the new edition was crucial, and Gil conducted test after test of the text-carrying capacity of various point sizes, leading, and set width before settling on 6.5-point Times Roman set on 6.0-point leading and a 7.0-point set width, which has been used in all subsequent editions of the Collegiate.
Still it is Gil the human being who we remember most fondly. Born in Akron, Ohio in 1931, he grew up in New Jersey and attended Bowdoin College, graduating in 1953 with a degree in English. After college he served two years of active duty in the Army, including a year in France. He married his college sweetheart, Jean Bentley, in 1955, and received a master's degree in English from Boston University with in 1958.
Janny Scott, writing in the Los Angeles Times, described him as "a bespectacled bear of a man," and he was indeed large, standing six feet tall and "ample of gut," as Kory Stamper, a former Merriam-Webster editor, recalls. He also had a big personality, with opinions, often irreverent, about almost everything and no reluctance to share them. In later years he grew a white beard that was always a little disheveled, and his appearance did suggest, as Kory once said, "a 19th-century sea captain gone to seed," a description that Gil cheerfully accepted.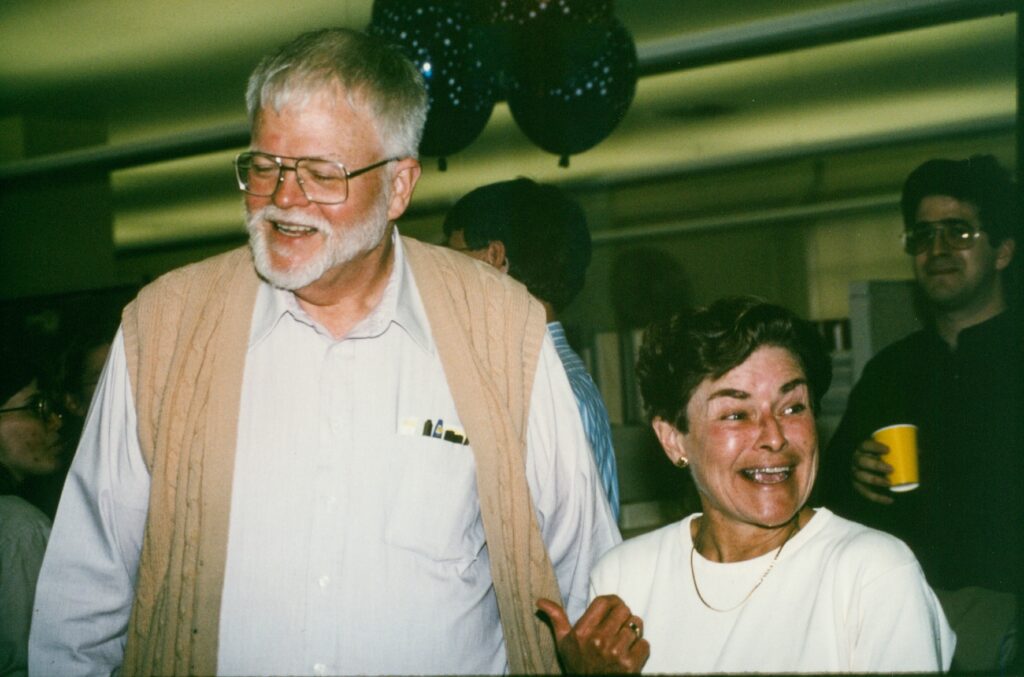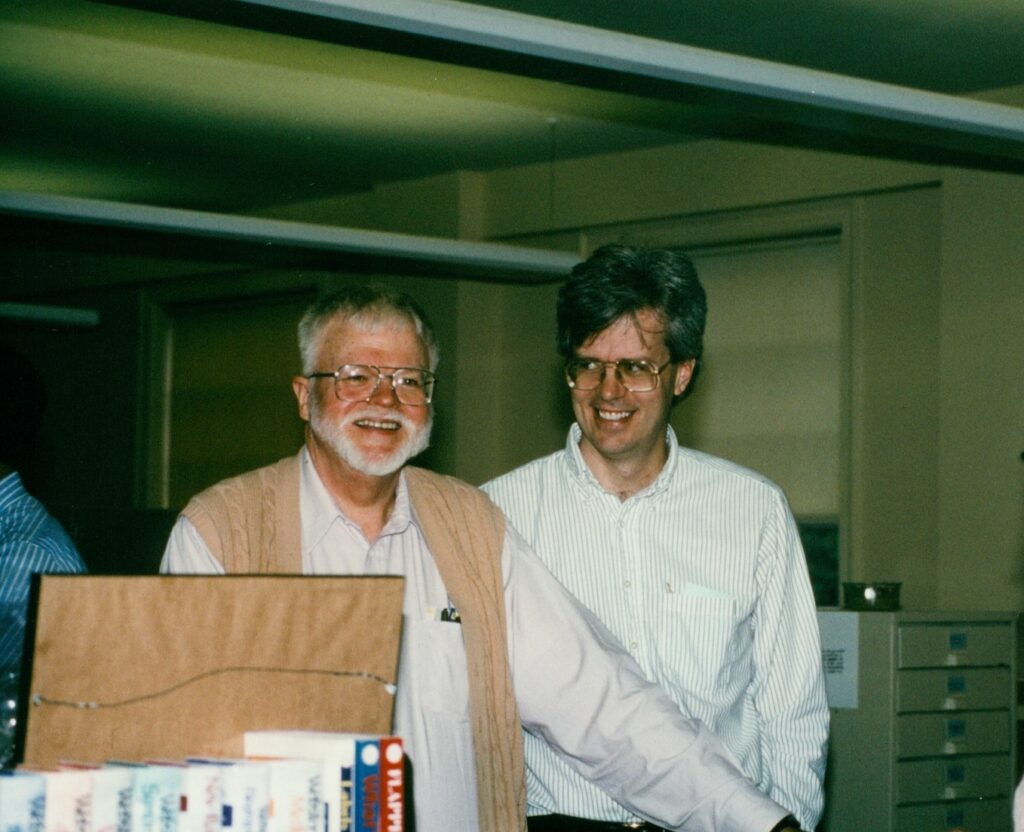 Gil was the person most responsible for the friendly atmosphere of the office. Steve Perrault, a retired senior editor and Gil's successor as Director of Defining, rightly says that Gil "did more than anyone to create the feeling of esprit de corps among us young editors." From time to time Gil would return from lunchtime errands with a supply of cheese, crackers, and apple cider and would lay them out on a nearby table for editors to snack on and pass a pleasant moment in conversation. Gil also served as the coach, pitcher, and enthusiastic supporter of Merriam-Webster's ragtag co-ed softball team. Steve recalls Gil lumbering around the bases and shouting "Can of corn!" when someone hit a high fly ball or "Ducks on the pond!" when there were runners on base. And always at the end of the game there would be refreshments provided by Gil.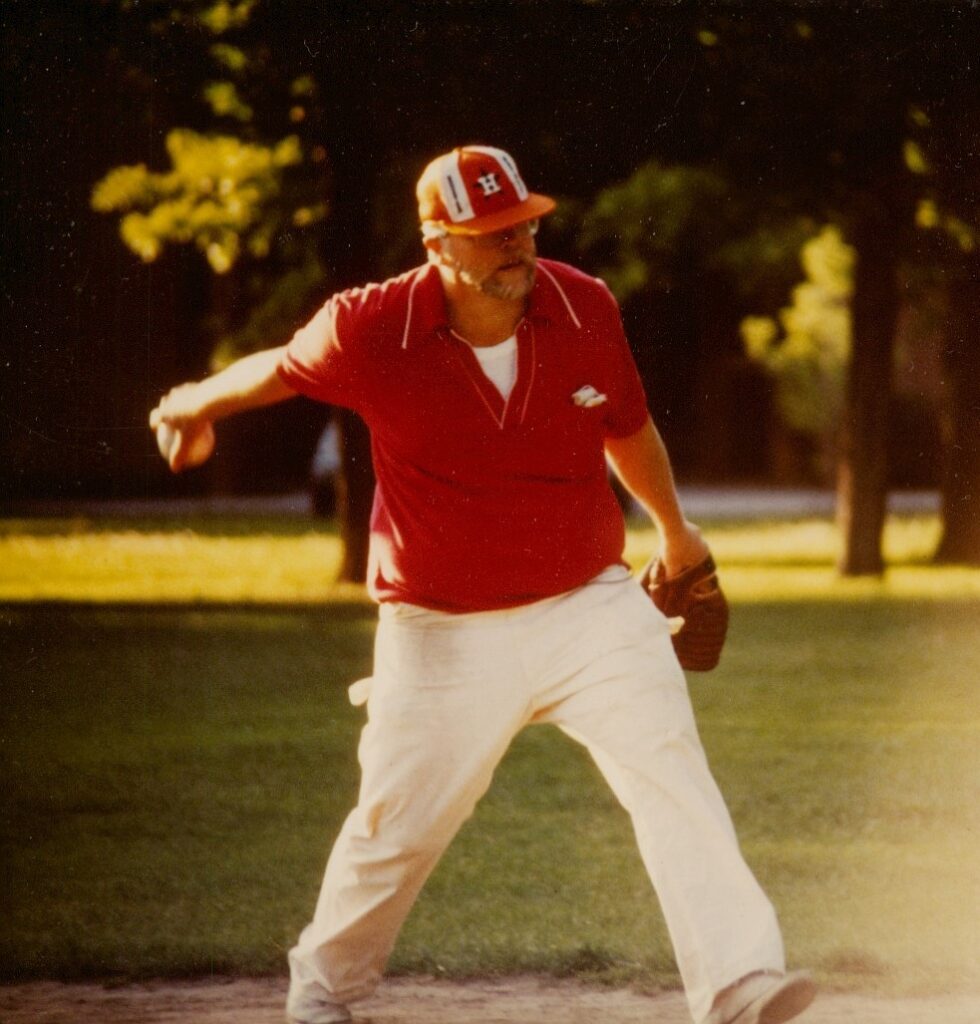 Gil was also a great storyteller, and storytelling was important. From the mid-1980s on, he was the only member of the Editorial Department to have worked on Webster's Third. His stories about editors from that period, often funny and always with a point, provided younger editors with a sense of the people who had come before them. He was, as Madeline has said, "our living link to the past" and gave us a sense that we were part of a larger staff that included not only our contemporaries but also those who had worked before on dictionaries we were revising.
The picture of Gil would not be complete without speaking about his home life, for as professionally accomplished as he was, he was able to strike an admirable work-life balance. He always arrived at work early, one of the first in the building every morning, but he also left as soon as the official workday was over. As his son John remembers, on summer nights he was home in time for a game of catch with his sons or to cook dinner. He took the time to coach Little League baseball, play guitar, develop his taste for good food, good beer, good wine, and good jazz, and be a die-hard Red Sox fan. John speculates that Gil was part of the last generation that could support middle-class intellectuals, men and women who were deeply learned in an academic subject but still enmeshed in the activities of middle-class life and who could live comfortably on the modest salary of a dictionary editor and still enjoy at least some of the finer things in life. Gil did all of that and did it gracefully.
Gil was predeceased by his wife, Jean, who died in June of 2009. He is survived by his three sons, William, James and John, as well as his two granddaughters, Meghan Gilman and Arielle Gilman. All of us, his friends, his family, and his colleagues share the same feeling: He was my friend. I miss him.
Grateful thanks to John and James Gilman and to all of Gil's colleagues, especially Kathleen Doherty, Madeline Novak and Steven Perrault, who helped with this In Memoriam and shared their memories of Gil with me.
---
In Memoriam: Vincent McCarren, 1939–2022
By David Jost
Vincent McCarren died April 9, 2022. I mourn him personally, for he was a dear friend of mine, but he was also a prodigious lexicographer, a role I want to honor in this memorial.
Vince came to his task as many a lexicographer does, by a combination of paths. Vince trained as a classicist, taking his BA from Fordham, his MA from Columbia, and his PhD from University of Michigan. He specialized in papyrology and was recognized by the Revised Supplement to Liddell and Scott's Greek-English Lexicon for "Substantial contributions in the field of papyrology." So one path to his lexicographical career led from his preparation in classics, especially the incredible focus on text demanded by papyrology.
The other path came about from his long tenure at the Middle English Dictionary, where we crossed paths. Vince, who worked there from 1979 to 1997, was employed in doing the research required to ensure that the work of the editors was accurately sourced and cited. At times this required original research, which Vince was eminently qualified to do.
One day Vince and I happened to discuss medieval glossaries, and I pointed out to him that he was one of the few people who had the knowledge of both Middle English and of Latin that would allow someone to edit a work like that. Unbeknownst to me at that point, I at least planted a seed that gave rise to Vince's massive, decades-long task of editing the Stonyhurst manuscript of the Medulla Grammatice.
I will let Vince describe the task in his own words, excerpting from an article that appeared in the Spring 2020 edition of this newsletter. (https://dictionarysociety.com/history-vincent-p-mccarren-and-eugene-green-spring-2020/)
This edition of the Stonyhurst manuscript of the Medulla Grammatice is an attempt at revealing a current of thinking, indeed, a first step in the direction of understanding a sub-literary movement which took place within England from beginning to end of the fifteenth century. This edition represents the earliest Latin-English glossary in the tradition entitled the Medulla Grammatice or Marrow of Grammar (Philology) ante 1425 A.D. The Medulla Grammatice comprises nineteen known manuscripts and four fragments…. Entries are in Latin with glosses or interpretations in Middle English. Not infrequently transliterated Greek appears with Latin and/or Middle English as glosses. At times Hebrew and French make their appearance….

The Stonyhurst manuscript has been chosen for editing due to its unique combination of virtues, i.e., being of the earliest of the manuscripts (a1425), within the tradition of the Medulla Grammatice, and being complete, having some 16,000 entries within seventy-one folios. In comparison to the material which constitutes the nineteen manuscripts and four fragments of the Medulla Grammatice, not to mention the enormous glossographical reserves worldwide, this edition of the Stonyhurst manuscript is little more than a scribal twitch. The Stonyhurst manuscript exemplifies the many challenges facing the editor of medieval glossaries, and it is hoped that this edition might provide a sense of the scope and significance of the glossographical tradition.
It should be mentioned, because it is of importance to lexicography, that over the course of his work Vince found both new words and meanings that he relayed to the appropriate dictionaries.
At the very end of this piece I have inserted a page of the edition to show how this careful work led to a new treatment in the MED.
Vince clearly outlines the challenges such editorial work involves in the following:
With as many of the best lexica you can manage, along with some supportive period manuscripts, problems … will be grasped and solutions will be realized, more or less. When that moment comes you will know that you are truly part of the scholarly community.
In the newsletter article Vince gives a flavor of the difficult morass of challenges one runs into continuously in such editing work, which makes it all the more amazing to know that having begun the work in 1983, Vince stuck with it to complete it in 2022, the year of his death. 40 years! The wonderful thing is that he did finish it, a privilege that not all lexicographers have had.
Publishing began in 2007 by the international journal A.L.M.A. (Archivum Latinitatis Medii Aevi); and in 2018 its copyright was transferred to the University of Michigan Press and General Library's internet system, "Deep Blue" (all accomplished most agreeably).

The Library of the University of Michigan has published our edition in the Deep Blue digital library (https:deepblue.lib.umich.edu) of academic and research work.
This work was a labor of love, but as I have mentioned few could have done it. Without such work the writings of the past cannot be understood. Thus, what Vince did is, in my mind, of the highest importance.
Vince, in addition to being a scholar, had a deep love of music. He had an oversized sense of humor that was constantly in play. He was a devoted husband and friend. "He was a verray, parfit gentil knight."
Publications by Vincent P. McCarren
A Critical Concordance to Catullus, E.J. Brill, 1977
American Studies in Papyrology, Vol 22, 1980, "Michigan Papyri XIV, edited by Vincent P. McCarren"
Medium Aevum Vol LVIII, 1989, "Middle English FEMINAL- A Ghost Word"
Traditio: Studies in Ancient and Mediaeval History Thought and Religion Vol XLVIII, 1993, "A Fragment of the Medulla Grammatica" [For a detailed description of the manuscripts of the Medulla Grammatice the reader should see appendix II of V.P. McCarren's critical edition of the Bristol MS. DM1, pp. 220–24.] Recognized for 'Substantial contributions in the field of papyrology' by Liddell and Scott Revised Supplement Greek-English Lexicon, Oxford 1996
University of Toronto Early Dictionary Databases, 1994, "Toward a Text of the Medulla Grammatica: Procedures and Prospects in Editing a 15th Century Glossary."
A Guide to Editing Middle English, Eds Vincent P. McCarren and Douglas Moffat, The University of Michigan Press, 1998
The Journal of Medieval Latin, Vol 10, 2000, "The Gloucester Manuscript of the Medulla Grammatica: An Edition"
Bulletin Du Cange: Archivum Latinitatis Medii Aevi, Tome 60, 2002, "Linguistic Problems Within the Tradition of the 15th Century Glossary Medulla Grammatice"
Bulletin Du Cange, idem, Tome 65, 2007, "A Prolegomenon to the Stonyhurst Medulla: An Edition of the Letter 'A'"
Bulletin Du Cange: Archivum Latinitatis Medii Aevi, Tome 70, 2012, "An Edition of the First Half of the Letter C of the Medulla Grammatice (Stonyhurst ms A.1.10)"
An Edition of the Medulla Grammatice, Stonyhurst MS. (A.1.10) on University of Michigan Deep Blue, 2023, https://deepblue.lib.umich.edu/handle/2027.42/143140 [Sample of part of page below (p. 72 of the letter A) is taken from this site.]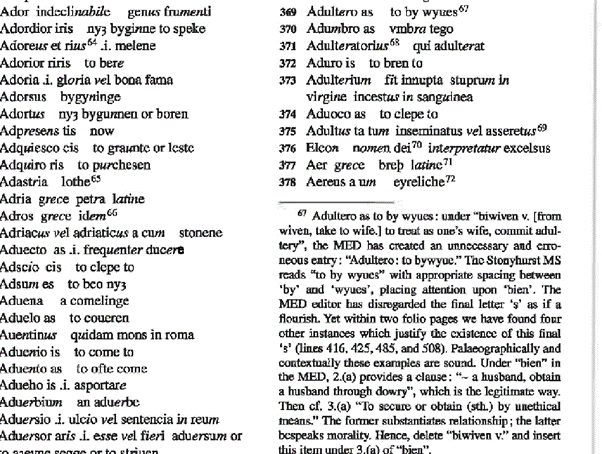 ---
Upcoming Conferences
Conference on Empirical Methods in Natural Language Processing (EMNLP); Abu Dhabi, UAE; 7–11 December 2022; https://2022.emnlp.org/
Workshop on Challenges and Applications of Automated Extraction of Socio-political Events from Text; 7–8 December 2022; https://emw.ku.edu.tr/case-2022/
DSNA 24; Boulder, Colorado, USA; 31 May – 3 June 2023; https://dictionarysociety.com/conference/dsna-24-in-boulder-colorado/
Asialex; Seoul, Korea; 22–24 June 2023
Globalex Workshop on Lexicography and Neology (GWLN); Seoul, Korea; 22–24 June 2023; https://easychair.org/conferences/?conf=gwln5
eLex; Brno, Czech Republic; 27–29 June 2023; https://elex.link/elex2023/
Symposium on Dictionaries and Their Use in Foreign Language Teaching: New Challenges in a Multilingual, Digital, and Global World; AILA World Congress; Lyon, France / hybrid; 17–21 July 2023; https://aila2023.sciencesconf.org/401019
Lexicom; Cambridge, UK; 11–15 September 2023; https://lexicom.courses/lexicom-2023-cambridge-uk-lexicography-workshop/
International Conference of Historical Lexicography and Lexicology (ICHLL); Fisciano, Italy; 27–29 September 2023; https://lvc3886.wixsite.com/ichll2023
---
Publication Information
The DSNA Newsletter is usually published twice a year, in the spring and fall. It is currently edited by Lindsay Rose Russell and Rachel Fletcher. Associate Editor is Peter Chipman. Member news items can be sent to dsna.membernews@gmail.com.
Our Executive Director is Lindsay Rose Russell.
Send correspondence re membership, etc. to
Dictionary Society of North America
Department of English, University of Illinois
608 S Wright St, Rm 208
Urbana IL 61801
USA
This issue: Vol. 46 No. 2 (2022)
Cumulative issue #94