History of the DSNA Newsletter Part 1.
David Jost
Now that we have posted a complete run of the DSNA Newsletter on our website https://dictionarysociety.com/?page_id=14, I am taking the opportunity to write an occasional series of articles, which will do double duty as articles about the DSNA and the history of lexicography. This first article is impressionistic based on a glance through all the Newsletters to determine the editors and their dates. Subsequent articles will be more detailed and based on a complete reading of all Newsletters. I also hope at some point to index them.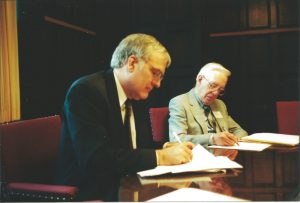 David Jost, current editor, and Ed Gates, first editor
The early years of the DSNA Newsletter have never been equaled even though of course all editors have done an excellent job of bringing out the publication on a regular basis from the first one in 1977 1977-1-1-1-DSNAN (1.1) and through 2018 Fall  (41.2–this issue). Forty-one volumes of Newsletters have been published, usually consisting of two issues a year.
In the early years it was crammed, chock full, overstuffed with information about lexicography. Edward Gates, the editor for the entire time until 1989, and Barbara Ann Kipfer, who became associate editor, as well as the managing editor, Donald Hobar, both for much of the time, were dictionary central where all things dictionary congregated on a regular basis. Some issues were 16 pages long and in three years there were three issues! Take a look at 1983-7-2-14-DSNAN  for a typical example and note all the topics covered. It is humbling for this editor.
I should mention of great historical interest are the list of founders in 1977-1-1-1-DSNAN and new members in 1977-1-2-2-DSNAN. 
Gates's retirement from Indiana State was announced in 1989-13-1_2-28-DSNAN. After some transition (see below), Louis T. Milic at the University of Cleveland took over as editor in 14.2 1990-14-2-30-DSNAN . Gates continued to contribute and was thanked for this by Milic multiple times but the publication has never been so full of information since Gates and Kipfer ended their work.  One may surmise that among other reasons were the founding of other Societies and later on the rise of the internet. The DSNA was the only game in town in the beginning.
Victoria Neufeldt assumed editorship in 21.2 (1997-21-2-44-DSNAN ). She first edited while in Springfield MA working for Merriam-Webster and then worked from home in Saskatoon, Saskatchewan.  With Victoria my impression is that we see an emphasis on the people of the Society: extensive obituaries, pieces on the Fellows, and Conference photos abound. Also regular columns, such as the ones on collecting by David Vancil, make an appearance.
Katy Isaacs assumed the editorship from 32.1 to 36.2 (2008-32-1-67-DSNAN). Columns continued, as did lots of photos and pieces on the Fellows.
David Jost began editing with 40.1 (2016-40-1-81-DSNAN) with Katy's help in making PDFs but switched in 41.2 (2018 https://dictionarysociety.com/?page_id=297­) to WordPress so he could set the whole thing himself. He continues to cover the news but also has commissioned essays including this ongoing series on past Newsletters.
We should mention a few short stints of editors. After Gates left the editorship Barbara Ann Kipfer, (1989-13-1_2-28-DSNAN ), who had been associate editor, took over until Louis Milic replaced her (see above). Much later Wendi Nichols (2013-37-1-77-DSNAN ) put out the single issue for the year and Martha Mayou (2014-38-1 and 2-78-DSNAN ) then assumed the editorship until I began (see above) Even though their stints were short we owe them a great debt of gratitude; they kept the Newsletter going during transition periods.
In subsequent Newsletters I intend to offer more detailed discussions of this Society publication. If certain topics might appeal to you please suggest them. Be warned, though, that I might ask for your assistance.