For Connie Eble, recipient of the 2019 Richard W. Bailey Award for Distinguished Service to Lexicography and Lexicology, presented at the 22nd Biennial Meeting of the Dictionary Society of North America, Indiana University, May 10, 2019
Ben Zimmer
The Wall Street Journal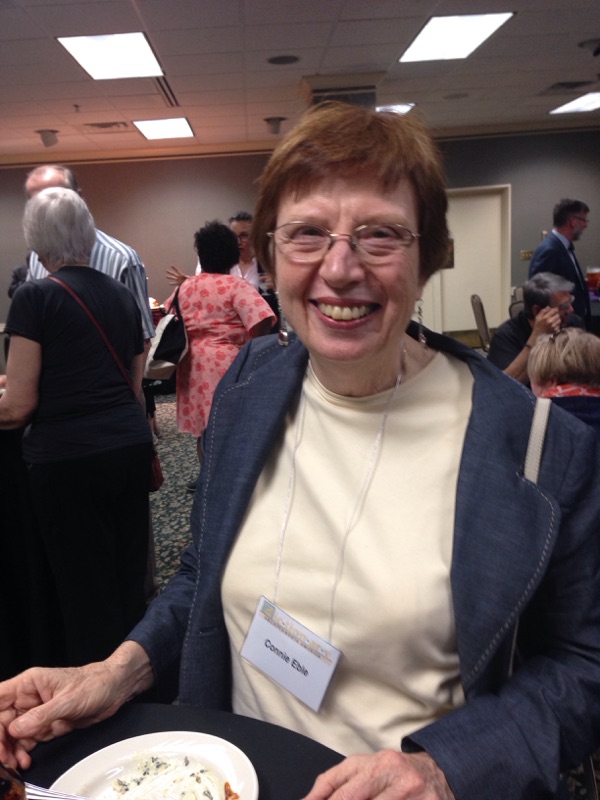 On Dec. 4, 2018, Connie Eble sent out an email to a select group of word-watchers, many of whom are in this room this evening. "Dear Friends," she wrote. "I have just taught my last class at the University of North Carolina at Chapel Hill, to complete fifty years of teaching at the university level. Attached is my final installment of campus slang from my undergraduate students. The 20,000 or so index cards submitted to me over the years will be deposited with University Archives as a permanent record of the slang and campus culture of Tar Heel undergraduates for forty years."
I'm sure there must have been a collective sigh of despair when that email was opened by its recipients. Could this really be the last dispatch from Chapel Hill? Starting in the fall semester of 1972, just a year after joining the UNC faculty, Connie began soliciting examples of "good, current campus slang" from her undergraduate students. There had been sporadic attempts to compile American student slang going all the way back to 1895, when Willard Clark Gore drew on students in his rhetoric classes at the University of Michigan. But what Connie was able to accomplish with her students over the years is truly unparalleled. Her indispensable 1996 book Slang and Sociability was based on about 10,000 instances of slang collected over two decades, but by the time Connie sent out her final installment last year, her slang corpus had more than doubled.
Following the lead of Gary Underwood, who collected campus slang at the University of Arkansas from 1970 to 1972, Connie involved her students directly in the documentation of their own slang – essentially, training them to be junior lexicographers and field linguists. That makes the lists that Connie and her students generated particularly valuable, with a scholarly reliability that has only grown more crucial in the age of Urban Dictionary and other sketchy ventures in user-generated lexicography.
Speaking of "sketchy"… when Connie circulated her Spring 2010 slang list, I noticed a profusion of terms having to do with weird or suspicious outsiders, such as creeper, rando, and sketchball. Intrigued, I devoted a New York Times "On Language" column to the subject. Connie put me in touch with several of her female students, who explained the challenges of identifying "sketchy" individuals when dealing with unwanted attention from men in social situations. I was impressed by the nuanced sociolinguistic perspectives of her students. Connie had trained them to be not simply slang collectors but sophisticated observers of what slang signifies in their lived experiences.
The impact of Connie's work on slang lexicography in general is truly profound. We can even quantify that impact. Green's Dictionary of Slang by Jonathon Green has, at last count, a whopping 3,372 citations from the UNC lists – exceeding any other source. Even more impressively, 1,016 of those citations are the earliest recorded uses of lexical senses. And in the Oxford English Dictionary, the lists provide the first citations for such items as wuss, wuss out, chill (meaning "relaxed"), lose one's shit, shit happens, sick (meaning "excellent"), freakazoid, nuke (meaning "to microwave"), walk of shame, tighty whities, talk to the hand, and of course talk to Ralph on the big white telephone (meaning "to vomit into a toilet"). During my editorship of "Among the New Words" for American Speech, I have come to appreciate just how invaluable Connie's work has been for any lexicographical accounting of new and emerging American slang. While her incredible run at UNC has come to an end, her service to the field of lexicography will be fondly remembered as student slang continues to flourish in the 21st century. Thank you, Connie.
The Frederic G. Cassidy Award for Distinguished Achievement in Lexicography or Lexicology is presented to a longstanding member of the Society who has, throughout their career, significantly advanced lexicography or lexicology by major achievements as a lexicographer in research or practice at the highest scholarly or professional standards.
Wendi Nichols
Cambridge University Press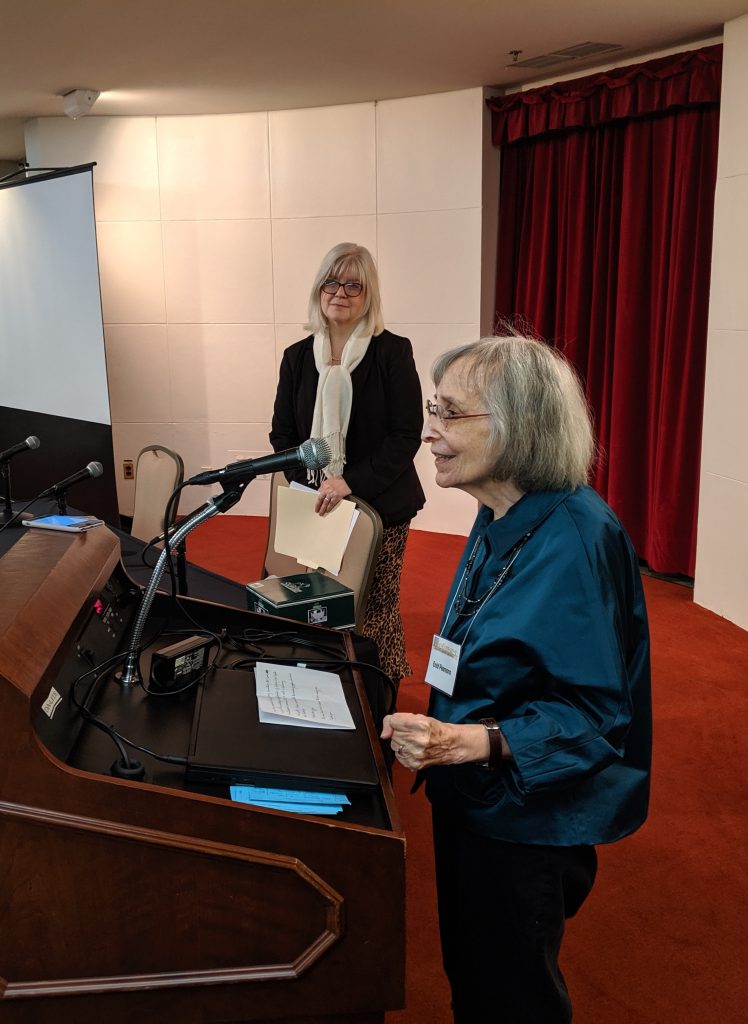 It is not just an honor, but a true joy, to be asked to introduce my friend Enid Pearsons today as the 2019 recipient of the Frederic G. Cassidy Award for Distinguished Achievement in Lexicography or Lexicology.
In a career spanning nearly six decades, Enid has been something of a trade secret. Her first major credit was as the senior editor for pronunciation on the first edition of The Random House Dictionary of the English Language: The Unabridged Edition – a project that at one point had about four hundred people working on it. And she's still, as she puts it, "an occasional kibbitzer" at dictionary.com – which, as most of you know, is where the data of the Unabridged now lives. She was a senior editor when she graciously welcomed 36-year-old me as her boss at Random House. It was only when we were all laid off a scant four years later that she announced to me: "Well, now I can tell you how old I am."
Enid has been a senior member of teams led by such well-known figures as Jess Stein, Stuart Berg Flexner, and Laurence Urdang. And yet, she's never received top billing. So now, I'd like to share with you what Enid should receive top billing for.
She got the job at Random House by telling Larry Urdang how she would improve the pronunciations in the American College Dictionary if she were in charge of them, then proceeded to do just that. This, at the publishing house that introduced the schwa to American dictionaries!
As a freelancer during her child-raising years, she wrote the pronunciation manual for the first edition of the American Heritage Dictionary. I suspect her scorn for the pronunciations in Webster's Third might have landed her that gig. For Enid, there's descriptivism, and then there's sheer irresponsibility, and giving "uh-uh" as one of the pronunciations of no was proof that Merriam-Webster had lost its way – akin to giving "car" as a pronunciation for automobile.
By the second edition of the Random House Unabridged, Enid had become the senior editor for style as well as pronunciation. She wrote not only the Random House style manuals but also what is arguably the first user-friendly "Guide to the Dictionary" to appear in a major reference work. It includes her brilliant innovation, a table of sound-spelling correspondences in English, which shows all the ways the sounds in English can be spelled, to help the poor person who wouldn't be looking up a word if they knew how to spell it in the first place.
Enid is the original "early adopter." Her keen interest in computers in the aid of lexicography dates back to when Larry Urdang introduced the first-ever computer-based system to be used for compiling a major dictionary. In the early 1980s she worked with Paul Hayslett to create an integrated database, editorial, and composition system housing SGML-tagged content, bringing Random House Reference into the digital age several years before even the innovators among the ELT dictionary publishers had moved to all-digital systems. And in the early 1990s she oversaw the production of the first CD-ROM version of the Unabridged – which is a true gem of a product, perfectly suited to its format, full of search capabilities and features that are difficult to achieve online. Without that digital heritage, there would be no Dictionary.com.
On top of all this, Enid oversaw the Random House line of thesauruses, and she commissioned and meticulously edited special-subject dictionaries on computers, the law, medicine, and sign language, where the editor isn't even listed in the credits. But in Enid's case, the authors took care to praise her in their acknowledgments.
If you ask Enid what interested and challenged her most, she's likely to say Elaine Costello's American Sign Language Dictionary. So I'd like to share what Costello said about her:
"I wish to express my highest regard to my soul-mate Enid Pearsons, editor and lexicographer, who worked with sensitivity and preciseness in making sure that the English citations reflected the linguistic properties of sign language as closely as possible. Her faithfulness and laborious attention in making this dictionary complete, accessible, and accurate are deeply appreciated."
I, too, wish to express my highest regard for Enid for her distinguished achievement in lexicography. I'm thrilled that today she finally gets top billing.
Ladislav Zgusta Honorary Presidential Member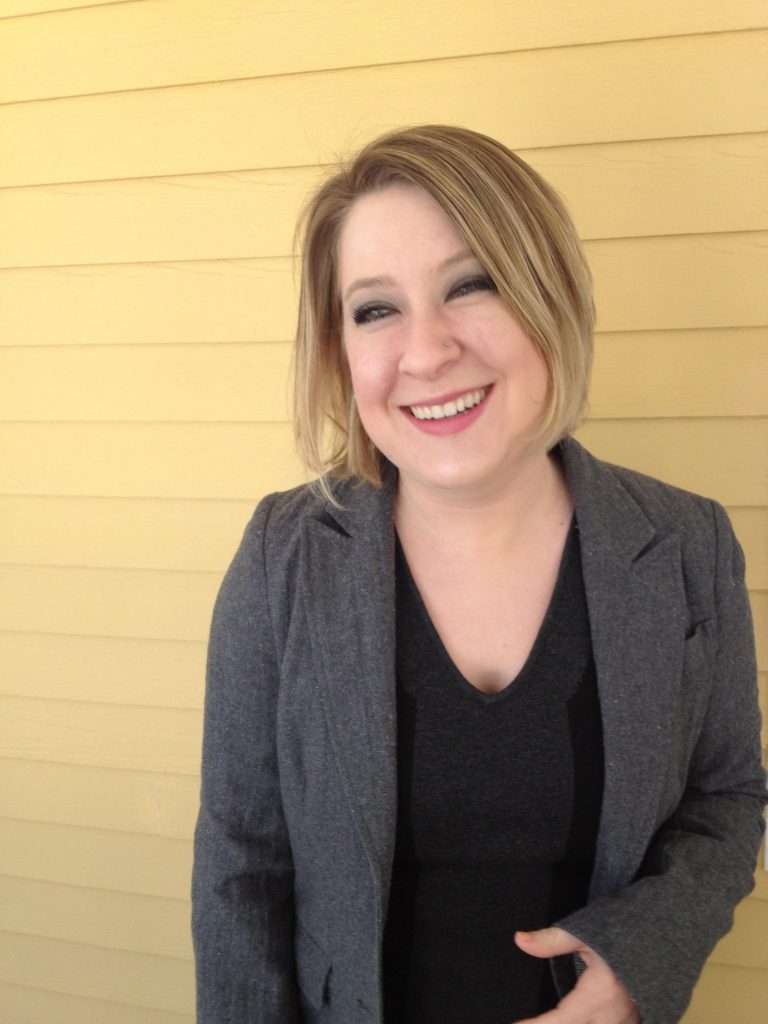 Carly Bahler is a PhD candidate in French Linguistics at Indiana University. A native of Chicago, Carly entered the program in the fall of 2011. She plans for an August 2019 defense of her dissertation entitled "Irrealis in a declining dialect: The case of French in the Saint John Valley" directed by longtime DSNA member Kevin Rottet. Carly's study focuses on the expression of irrealis mood in the French of under-researched French-speaking communities including Madawaska, along the border between New Brunswick and Maine. This area is of interest both as a crossroads of contact between Acadian and Laurentian dialects of French, as well as for the contact with English which has in recent decades brought about its precipitous decline. For the past couple of years, Carly has also been working as a research assistant on the project based at IU to produce a Differential, Historical and Etymological Dictionary of Louisiana French which involves DSNA members Albert Valdman and Kevin Rottet (both of IU) and Tom Klingler (of Tulane University, New Orleans). Carly's work on this project has involved compiling detailed reports documenting each of the approximately 600 lexical items that the three co-authors are treating. This has given Carly exposure to a vast pool of resources on North American French dialectology, a task she has embraced with great relish and on which she has brought to bear her own work in the Saint John Valley, often contributing important lexical insights from the French of that region.
Madeline Kripke Honorary Presidential Member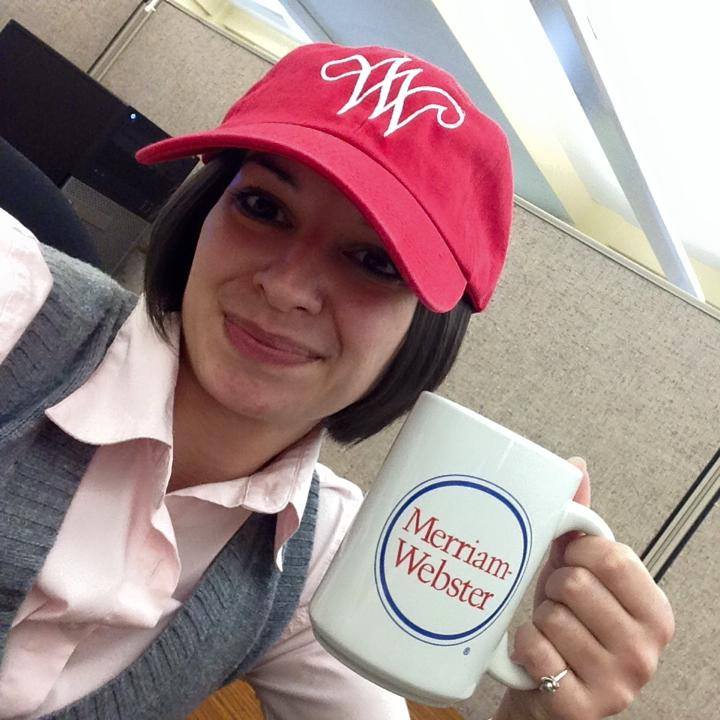 Serenity Carr graduated from Smith College with a degree in linguistics and logic, and was hired as an editorial assistant at Merriam-Webster in 2015. She was predestined for lexicography: she has been an avid dictionary collector for many years, and her undergraduate thesis, titled "Modern Uses of the Word Like in the Generations Under 40," was essentially a lexicographical treatment of everyone's favorite adverb. Upon joining vxMerriam-Webster, Carr proved herself a quick learner; she was promoted to assistant editor in short order and given charge of the blog and social media feeds for the Merriam-Webster Learner's Dictionary website. As a lexicographer, she's written definitions for the online Merriam-Webster dictionary, where she brings a level of discernment and understanding to her defining that many editors spend years honing. The commercial dictionary landscape is changing rapidly, but Carr's flexibility paired with a commitment to solid lexicography bodes well for her.