DSNA XXIII in Boulder
Orin Hargraves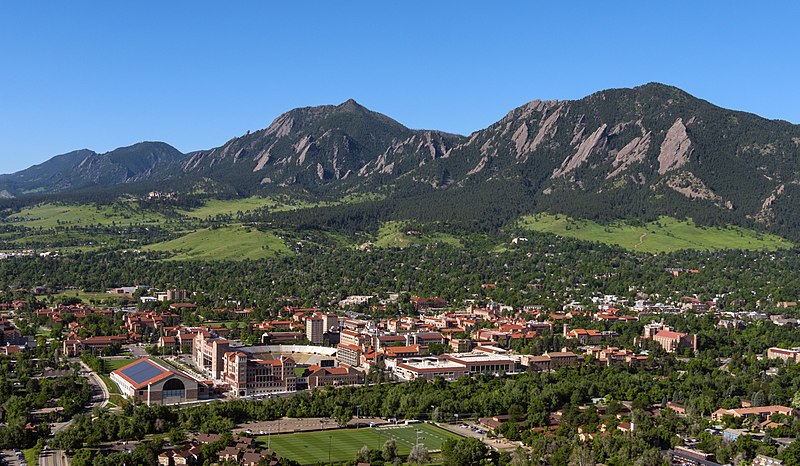 The 2021 DSNA conference will be held at the University of Colorado, Boulder, or CU as the locals call it. Many of you know that I have worked there for the last several years in various capacities, none of which credentials me to host a conference at the institution. Happily, a colleague has agreed to be our faculty sponsor. So firstly, hats off to Laura Michaelis-Cummings, who is currently Chair of Linguistics at CU, a former student of Charles Fillmore at Berkeley where she did her PhD, and also the editor of the CUP journal Language and Cognition.
CU Boulder is the largest research university in Colorado with a total enrollment over 30,000. Boulder is located in northern Colorado, less than an hour from the capital Denver, and well served by public transportation links. Renowned for its location at the foot of the majestic Rocky Mountains, Boulder is also home to the only Chautauqua still in operation west of the Mississippi. It is the closest metropolitan area to Rocky Mountain National Park, the third most visited national park. Federal agencies NCAR, NIST, and NOAA all have labs in Boulder. The city is a destination for climbers, astrophysicists, geologists, sightseers, foodies, and now: lexicographers!
The conference will take place June 2-5, 2021. It is in the early planning stages now but it's never too early to put forth your fantastic ideas about how to make the conference a success, nor too early to pledge dollops of sponsorship cash to make the conference more enjoyable for everyone. This will be a "standalone" DSNA conference, not coincident with SHEL, which was our partner in 2019 (Indiana) and 2015 (Vancouver).
We have not yet teamed with a conference hotel but we have designated a likely banquet venue and have also secured space for our use at the University Memorial Center (UMC), a centrally located campus building that houses the bookstore, a food court, a ballroom, and numerous offices and meeting rooms. There will be dormitory accommodation available for those who want it, and we do encourage this because there are contractual minimums that we must pay for, whether people are sleeping in the rooms or not.
The conference committee is made up of DSNA president Elizabeth Knowles, DSNA executive secretary Kory Stamper, Dictionaries editor and president-elect Ed Finegan, DSNA member Lindsay Rose Russell (she's from Boulder!) and myself. Please feel free to contact any of us. We are especially interested in hearing from members who have ideas for symposia, workshops, and panels to be offered during or immediately before the conference.
OTHER CONFERENCES
"Dictionary Articles and Corpora – a Research Laboratory for Linguistic Diversity" (Workshop at DGfS 2020)
4–6 Mar-2020, Location: Hamburg, Germany
Web Site: https://www.zfs.uni-hamburg.de/dgfs2020/dgfs2020.html
ICCLL 2020, International Conference on Corpus Linguistics and Lexicology
March 19-20, 2020, Prague, Czechia
https://waset.org/corpus-linguistics-and-lexicology-conference-in-march-2020-in-prague
ICLLDP 2020, International Conference on Linguistics, Lexicography and Discourse Prosody
March 26-27, 2020, Madrid, Spain
https://waset.org/linguistics-lexicography-and-discourse-prosody-conference-in-march-2020-in-madrid
ICLSLDP 2020, International Conference on Language Sciences, Lexicography and Discourse Prosody
March 26-27, 2020, Madrid, Spain
https://waset.org/language-sciences-lexicography-and-discourse-prosody-conference-in-march-2020-in-madrid
ICLDP 2020, International Conference on Lexicography and Discourse Prosody
April 9-10, 2020, Venice, Italy
https://waset.org/lexicography-and-discourse-prosody-conference-in-april-2020-in-venice
ICLSLDP 2020, International Conference on Language Sciences, Lexicology and Discourse Prosody
May 14-15, 2020, Paris, France
https://waset.org/language-sciences-lexicology-and-discourse-prosody-conference-in-may-2020-in-paris
ICLSP 2020, International Conference on Lexicology and Discourse Prosody
May 14-15, Amsterdam, Netherlands
https://waset.org/lexicology-and-discourse-prosody-conference-in-may-2020-in-amsterdam
ICLLDP 2020, International Conference on Linguistics, Lexicology and Discourse Prosody
May 21-22, 2020, Vancouver, Canada
https://waset.org/linguistics-lexicology-and-discourse-prosody-conference-in-may-2020-in-vancouver
ICLLSP 2020, International Conference on Lexicology, Lexicography and Semantic Prosody
May 21-22, Vancouver, Canada
https://waset.org/lexicology-lexicography-and-semantic-prosody-conference-in-may-2020-in-vancouver
ICLVLL 2020, International Conference on Language Variation, Lexicology and Linguistics
May 21-22, 2020, Vancouver, Canada
https://waset.org/language-variation-lexicology-and-linguistics-conference-in-may-2020-in-vancouver
ASIALEX 2020
Yogyakarta, Indonesia, 16-18 June, 2020
Asialex 2020
ICHLL11, 11th International Conference for Historical Lexicography and Lexicology
June 17-19, 2020, Universidad de la Rioja, Logroño, Spain
https://www.nerthusproject.com/events
EURALEX 19th Conference: "Lexicography for Inclusion"
8-12 September 2020, Alexandroupoliis, Greece, Democritus University of Thrace
https://euralex2020.gr/
ICLSP 2020, Intenational Conference on Lexicology and Semantic Prosody
Oct. 5-6, 2020, Tokyo, Japan
https://waset.org/lexicology-and-semantic-prosody-conference-in-october-2020-in-tokyo
ICEGLL 2020 International Conference on English Grammar, Lexicography, and Linguistics
Oct. 22-23, 2020, London U.K.
https://waset.org/english-grammar-lexicography-and-linguistics-conference-in-october-2020-in-london
ICLSCBL 2020, International Conference on Language Sciences and Corpus Based Lexicology
Oct. 22-23, 2020, London U.K.
https://waset.org/language-sciences-and-corpus-based-lexicology-conference-in-october-2020-in-london