We are graced once again with a piece by David Vancil, one of the DSNA authorities on the collection of dictionaries.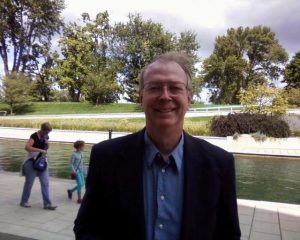 Booksellers, Collectors, and Librarians: Building a Special Collection
In my experience, most antiquarian booksellers are motivated not primarily by the desire for profit but by a genuine love for the long and complex history of books. Some booksellers, as we know, hang on to the books they love the most and become book collectors. Conversely, although possibly less frequently, some booksellers become collectors first before getting into selling. And not a few antiquarian booksellers become scholars in their own right along the way.
Antiquarian booksellers' sale catalogs frequently contain valuable information which is the result of many hours, if not years, of research.  In fact, not a few antiquarian booksellers' catalogs are considered indispensable to librarians and researchers. With respect to books purchased for the Cordell Collection from sellers' catalogs, I retained the catalogs of many booksellers and even had some of them cataloged as part of the reference holdings. As reference tools, such works stand alongside catalogs of private and public book collections as well as union catalogs, such as the Gesamtkatalog der Wiegendrucke.
I think one of my first encounters with antiquarian bookselling was as a graduate student on a book-collecting trip to San Antonio with Warner Barnes, an esteemed bibliographer and book lover who taught in the English Department of the University of Texas at Austin. The bookstore we visited was not a quaint shop but one contained in two crumbling, multi-story buildings. One would have needed a guide to get into the more ramshackle building of the two, which was located on the opposite side of the street, and possibly a hard hat for protection. I was new to collecting at the time, and it was not dictionaries which interested me in those days, but the works of one of my favorite literary authors, Thornton Wilder.
As a librarian, I made my first rare book acquisition at a college in Louisiana, where I was employed as a public services librarian. The purchase from a bookseller's catalog was a uniform edition of the collected works of Lafcadio Hearn. Hearn's life story was fascinating, and I had discovered that a copy of his Gombo Zhebes, already found in the library's circulating collection, was a first edition. I transferred it to the rare book room. I hadn't been able to resist the purchase of the set, even though I got in trouble for doing it, since the library director wanted me doing other things and not spending scarce funds on rare books. Luckily, the set was a bargain, and I kept my job. Finding rare books in the library stacks at my first job made me aware that I might encounter other important editions of books almost anywhere!
My next position took me to a library where someone else was in charge of rare books, so it wasn't until 1986 when I joined the library at Indiana State University as Special Collections Department chair that I had the chance to select works once again from the offerings of antiquarian booksellers. I was now at the Cordell Collection, about which I knew very little, although I discovered later that it had been covered in a guide to humanities materials used in my library school.
I quickly learned that the Cordell Collection was established with a gift of 453 English dictionaries in late 1969. While Warren Cordell had passed away in 1980, after having added several thousand more dictionaries and other wordbooks in a matter of 10 years, the Cordell Collection continued to thrive and to grow.
I knew nothing of the history of dictionaries, although I made some use of a small, personal collection of modern ones to help with the smattering of languages I had studied and occasionally translated. Ed Gates, who was in charge of a lexicography track in the master's program of the English Department, suggested books to read, and I attended his introductory course on lexicography. It was a fascinating class on many levels. His students even included a Tibetan monk, and I realized quickly that men and women in the field of lexicography would prove to be diverse in their backgrounds and in their interests.
I had to begin selecting items for purchase in my new job almost immediately. Initially, I perused antiquarian booksellers' catalogs, which Robert Carter, a librarian who had been involved in accessioning the original Cordell gift in 1969, previewed. It turned out Mr. Carter was more interested in spending most of his time in other collections, so I was soon on my own, expending a modest annual budget. I didn't yet have a real sense of the scope of the collection; it was hard to know what I should be focusing on. Luckily, when a renovation of the department was completed which expanded its storage space threefold, I was able to handle every book in the pre-1901 portion of the Cordell Collection personally while transferring them to a new location. I learned a great deal, including not only what was in the collection but what wasn't.
During his lifetime, Mr. Cordell was highly involved with selecting books not only from catalogs but also on buying trips, many of them to England. He sometimes bought books in lots in order to get a certain cherished item. This approach turned out to have unforeseen and critical results, when Cordell consciously widened the scope of his purchases to include works that showed not only the development of the English language but of the long tradition of lexicography, primarily in the West. I wasn't around at the time, but Robert K. O'Neill, the compiler of English-Language Dictionaries, 1604-1900, was frequently by Warren's side in this important and fast-paced phase of collection building.
I selected books for purchase throughout most of my 24 years with the collection. Booksellers quickly learned my name and sometimes offered me first-look opportunities to purchase the more than 80 books added to the pre-1901 portion of the Cordell Collection annually. Occasionally, we acquired a windfall of hundreds of works at the same time by using Mr. Cordell's approach of buying an aggregate of books. For example, 300 twentieth-century Merriam-Webster dictionaries were added simultaneously to the post-1900 portion of the collection as a result of such a purchase.
I want to write a little more about the role of collectors who are also booksellers. These are a hybrid group probably more interested, in many instances, in meeting fellow collectors than in turning over dollars. For example, DSNA member Jerry Farrell, a math professor and former New York Times crossword puzzle creator, has collected thousands of wordbooks and sold some to other collectors through Bullfrog Books. I also recall that Jerry gave the Cordell Collection an uncommon Chinese-English dictionary published by Merriam-Webster. And as everyone probably knows, Madeline Kripke possesses a remarkable collection of language books and has sometimes deigned to sell them. She brought to my attention that the Cordell Collection, which possesses all the Nathan Baileys in English and not a few in German and English, lacks a variant of the first edition. Bryan Garner, whom I interviewed in a previous column, told me recently that he had divested himself of some aspects of his collection to focus on other collecting interests, although he used a bookseller's services rather than becoming a bookseller himself.
There are collectors who never mean to assume the role of bookseller, but are cajoled into doing so. Warren Cordell convinced more than one dictionary collector to sell books to him for the greater good. I had the occasion to meet one of these reluctant-collectors-turned-antiquarian booksellers at the DSNA meeting in Missouri, Mr. Gene Freeman. He was very affable, but more than once at the conference, Gene expressed a kind of bereavement over the loss of books he prized. While sympathetic, I was happy with Mr. Cordell's powers of persuasion. The depth and scope of the Cordell Collection were greatly enhanced as a result.
Donors fall into another category. They are reminiscent of the originators of donated collections; they give books freely and don't charge. By the same token, in many respects, they fulfill a role similar to that of a bookseller with respect to building collections. While most donors give a book or two, I recall Barbara Kipfer donating her entire collection. That gift is still a high point for me as curator of the collection. We should all appreciate and admire donors greatly.
During my tenure, many, if not most, dictionaries and other wordbooks donated to the Special Collections Department of Indiana State University library found their way into the Cordell Collection, even titles already held. Warren Cordell stipulated that books with markings, handwritten notes, and other inscriptions were to be considered unique. It's fairly commonplace that a great many users of reference books write in them. So, books that some institutions or collectors might exclude from their holdings have been kept and, I would say, prized. I think that Cordell's perspective on uniqueness has proven to be prescient. More than one researcher in the Cordell Collection has explored how various individuals used these reference books, sometimes over generations.
Barbara Kipfer isn't the only individual to donate an entire collection. One of the most interesting and substantial book donations was anonymous. A physician in St. Louis decided to donate an entire collection of valuable dictionaries to the Cordell Collection, choosing Rob Rulon-Miller to handle the transaction. I was never able to acknowledge publicly this gift of one of the most generous donations the Cordell Collection has ever received. Finally, I want to mention the gift of Ladislav Zgusta's office library from the Center of Advanced Study at the University of Illinois. The donation reminded me of how beloved this learned scholar was. Many of his books made their way into the twentieth-century holdings of the Cordell Collection.
Books, manuscripts, and artifacts of many kinds come by many routes into the special collections found in libraries and museums both in the United States and elsewhere. Let's remember that the success of many collections—the Cordell Collection is but one example—is due not only to the work of the many librarians who curated them but to the effort and vision of collectors, antiquarian booksellers (intentional or not), and generous donors. Hats off to them all.
David Vancil
A Way with Words: Celebrating the Cordell Collection
Indiana State University has been celebrating what it calls its "Sesquicentennial Era," from 2015 through 2020. ISU's earliest incarnation, the Indiana State Normal School, was founded by the Indiana state legislature in 1865 but its doors didn't open until 1870. In the midst of its festivities, on November 9, 2017, the university focused its attention on two jewels in its crown, both connected to lexicography and DSNA: the Joseph S. Schick Lecture Series and the Warren N. and Suzanne B. Cordell Collection of Dictionaries. On that evening, more than 130 members of the ISU community and a smaller group of DSNA representatives gathered in the Cunningham Memorial Library Events Area — familiar to those who attended the DSNA (2009) or ICHLL (2016) meetings at Indiana University — for a special event titled "A Way with Words." DSNA was the event's primary external sponsor
Joseph S. Schick, who taught in the Department of English at ISU for 30 years, endowed a lecture series on language, literature, and lexicography before 1900. To date, more than 200 scholars from around the Anglophone world have spoken in the series, including sometime DSNA members John Algeo, Richard W. Bailey, F. G. Cassidy, Jack Lynch, Jesse Sheidlower, and Allen Walker Read, who delivered the inaugural lecture in 1988. The Cordell Collection was established with a gift of 453 early dictionaries from ISU alumnus Warren N. Cordell in 1969. The collection now holds more than 30,000 volumes, as well as various archives and documents. As a tour guide for sponsors of the event puts it, "World renowned, it is the largest collection of its kind in the western hemisphere." The collection spurred Edward Gates to organize two conferences on dictionary history during the 1970s from which DSNA was born (for more on which see my "The Dictionary Society of America: The Early Years," parts 1 and 2, in Dictionaries 35 and 38(1)). Many once and future DSNA members — Dabney Bankert, Lisa Berglund, Monique Cormier, Giovanni Iamartino, Rod McConchie, Linda Mitchell, Chris Mulhall, Mira Podhajecka, Lindsay Russell, and John Taylor — have received grants to study in the Cordell Collection.
As a benefit of sponsorship, DSNA had a table for eight at the banquet that made up part of the evening's program. Chairs at the table were filled by Michael Adams, Traci Nagle, Kevin Rottet, Lindsay Russell, Luanne and Mike von Schneidemesser, and Carly Bahler and Martin Maillot, two of Kevin's graduate students. Prior to the banquet, DSNA representatives were given a special tour of the Cordell Collection and provided with the full-color, forty-page guide to the tour and collection, which includes "Remarks by Warren N. Cordell" — first published in Paul S. Koda's A Short-Title Catalogue of the Warren and Suzanne B. Cordell Collection of Dictionaries 1475–1900 (1975) — and an annotated bibliography of the works on display in the tour, among them incunabula and early printed dictionaries and grammars of Balbi, Calepino, and Molina, as well as the newest addition to the collection, Johannes Tortellius' De Orthographia dictionum e Graecis tractarum (1471), purchased partly with the event's proceeds, including DSNA's sponsorship. (Copies of the guide are available from Cinda May, Chair of Special Collections at the Cunningham Memorial Library — and DSNA member — at Cinda.May@indstate.edu.) DSNA representatives were taken behind the scenes, into the closed stacks, for a closer view of the collection.
After dinner, the assembled guests were treated to a presentation by DSNA member Grant Barrett and Martha Barnette, co-hosts and co-producers of A Way with Words, a popular public radio show about word history, usage, and related matters. Questions and answers followed, full of humor and high spirits. As we like to say, a good time was had by all — unusually, this time, in the interest of lexicography. I'm tempted to write that there's no better way for DSNA to celebrate its historical, continuing relationship with the Cordell Collection, but, really, there is: donate materials or send gifts to support it, or use its materials, indeed, even apply for a fellowship to study there intensively. Visit https://library.indstate.edu/rbsc/cordell/cordell-idx.html and https://library.indstate.edu/rbsc/fellow.pdf.
Michael Adams